Представляем вашему вниманию вопросы и ответы на конкурс Британский бульдог за 2012-2013 год для 3-4 классов.
Как сделать такие снежинки из бумаги - смотрим ЗДЕСЬ.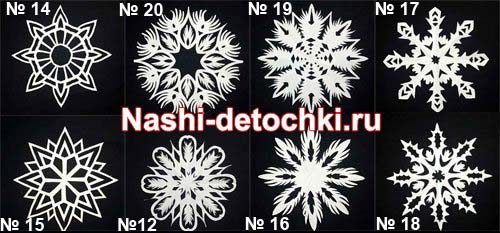 Прослушайте текст:
Listen to the text and find the correct answers
1. The Addam family lives in … .
A) Scotland B) Ireland C) England
2. What does Mr Addam do? He … .
A) drives a bus B) writes books C) teaches children
3. Mrs Addam … .
A) has two jobs B) isn't working now C) is a teacher
4. Mr and Mrs Addam have … .
A) two sons B) two daughters C) a son and a daughter
5. Mr and Mrs Addam's children are … .
A) students B) babies C) football players
6. … is eight.
A) Bill B) Jacky C) Jill
7. How old is Bill? He is … Jacky.
A) younger than B) older than C) as old as
8. There are … people in the Addam family.
A) four B) three C) five
9. Bill really likes … .
A) hockey B) comedies C) video games
10. The Addam family is a … family.
A) happy B) funny C) lucky
Fill in the gaps with the right words
Ann goes to school in London, but she comes from a small town in … (11) middle of Poland. Ann doesn't have … (12) sisters. She's … (13) a brother … (14) name is Stefan. Stefan is … (15) than Ann. He has blue eyes and his … (16) is black. On Sunday Ann, Stefan and … (17) friends go to the park, … (18) is near their house. Then Ann and Stefan invite friends to their house to play hide-and-… (19). They say, "We are always happy to see our friends on Sundays!" But during the summer holidays Ann and her friends go to Poland. They would like to go there … (20) often.
11. A) a B) the C) an
12. A) no B) some C) any
13. A) has B) get C) got
14. A) which B) whose C) who
15. A) older B) more old C) much old
16. A) hairs B) hair C) hairdo
17. A) they B) there C) their
18. A) where B) which C) who
19. A) seek B) sick C) seeks
20. A) much B) little C) more
Choose the correct answers
21. My brother … there any longer.
A) is working B) don't work C) doesn't work
22. Tom … . He's only four.
A) can't to read B) can't read C) not reading
23. Jack likes to go jogging … Saturday morning.
A) at B) in C) on
24. She … to the theatre last Sunday.
A) goes B) went C) going
25. … is your uncle? He's a policeman.
A) Who B) Whom C) What
26. … are my new trainers.
A) These B) Their C) This
27. … my way home, I stopped to buy a book.
A) In B) On C) During
28. The clown with the red nose is … of all.
A) funnier B) the funniest C) funny
29. Why … wearing your new dress now?
A) you are B) do you C) aren't you
30. … your jacket, it's warm here!
A) Take off B) Put on C) Get in
Look at the picture and choose the right words to make up a story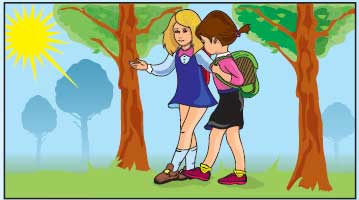 31. The sun … brightly.
A) shine B) shines C) is shining
32. It's a warm … day.
A) rainy B) sunny C) snowy
33. The girls are going to … now.
A) the home B) school C) home
34. They are … .
А) pupils B) teachers C) student
35. Both of them have … .
A) packets B) schoolbags C) baskets
36. The girls … in the third form.
A) study B) visit C) teach
37. They are going through the park and … .
A) seeing B) saying C) talking
38. There are a lot of … around.
A) flowers B) grass C) trees
39. One of the girls has got dark hair, the other has … hair.
A) grey B) blonde C) red
40. The girls aren't wearing … .
A) trousers B) socks C) shoes
Reproduce the telephone call: find the best answer (1-10) to each of the phrases (41-50). Every answer can be used only once
41. Hello, is that you, Ann?
A) 4 B) 8 C) 2
42. How are things with you?
A) 2 B) 4 C) 9
43. I'm fine too. What are you doing?
A) 2 B) 3 C) 9
44. Really? Would you like me to find you one?
A) 7 B) 2 C) 8
45. My aunt has got a nice puppy. Would you like to take it? They're coming to my place tomorrow!
A) 5 B) 8 C) 3
46. Let's meet on Saturday then.
A) 5 B) 7 C) 3
47. Let me see. All right, let's meet on Sunday in the evening.
A) 8 B) 10 C) 9
48. Her house is opposite the bank.
A) 7 B) 4 C) 6
49. It's too late. Maybe at five?
A) 6 B) 7 C) 8
50. See you on Sunday.
A) 1 B) 8 C) 4
1. Bye! See you.
2. I'm writing a story for my English class. It's about my dream. I'd like to have a pet
dog.
3. I'm sorry, I'll be so busy with my homework tomorrow.
4. I'm speaking.
5. Oh, not on Saturday! I'm helping my parents in the garden. What about Sunday?
6. Great! Let's meet near the main entrance of the bank at seven o'clock.
7. OK. I'm looking forward to meeting you, Bill.
8. Yes, of course! Could you find me a puppy?
9. Everything is fine, thank you. And what about you?
10. Where does your aunt live?
Британский Бульдог 2012 ответы: 3-4 классы

1 — С

11 —В

21 — C

31 — С

41— А

2 — С

12 — C

22 — В

32 — В

42 — С

3 — B

13 — С

23 — С

33 — В

43 — A

4 — С

14 — В

24 — B

34 — А

44 — C

5 — A

15 — А

25 — C

35 — B

45 — С

6 — В

16 — B

26 — А

36 — А

46 — A

7 — В

17 — С

27 — B

37 — С

47 — В

8 — А

18 — B

28 — В

38 — С

48 — С

9 — C

19 — А

29 — С

39 — В

49 — В

10 — А

20 — C

30 — А

40 — А

50 — А